Toolkit Empowering Kenyan Youth Through Virtual RealityWelding Training
In a world where technology is constantly evolving, staying ahead of the curve is crucial. For the
Toolkit Skills and Innovation Hub and its partners, embracing innovation and skill development is not
just a choice; it's a mission. In recent updates from the ToolkitTechDigital Newsletter, we explored
how Toolkit is making waves in Kenya by empowering its youth with cutting-edge Virtual Reality (VR)
welding training.
A Remarkable Journey Begins
Months of rigorous training, industrial partnerships, and immersive VR experiences have culminated
in an extraordinary journey for young Kenyans. Fred Mokaya, Stephen Mangale, and Mark Akira,
participants of Toolkit Skills and Innovation Hub's welding program, are about to embark on an
adventure of a lifetime. What started as a commitment to skill development has transformed into a
global opportunity for these three individuals, all thanks to Toolkit Skills and Innovation Hub 's
dedication.
The Toolkit Skills and Innovation Hub takes immense pride in being a part of their journey. As they
prepare to set sail to White Island, France, it's a testament to the power of upskilling and global
opportunities. Toolkit Skills and Innovation Hub is unwavering in its commitment to providing more
Kenyan youth with avenues to skill up and access global job markets.
Making an Impact by the Numbers
The impact of Toolkit Skills and Innovation Hub 's Virtual Reality welding program is not just a story;
it's a quantifiable success. The numbers speak for themselves:
 455 young Kenyans have been mobilized and trained, with a focus on gender equality.
 18 welding instructors received international VR welding upskilling training.
 Partnerships with 40 companies have been formed to provide practical experience and
internships.
 87 Toolkit welding trainees have been registered for accreditation by the National
Construction Authority.
Toolkit Skills and Innovation Hub has been recognized by the Kenya National Qualification Authority
(KNQA) for its significant role in skilling Kenyan youth.
This is not just training; it's a transformative journey that's changing lives and bridging the skills gap
facing Kenya.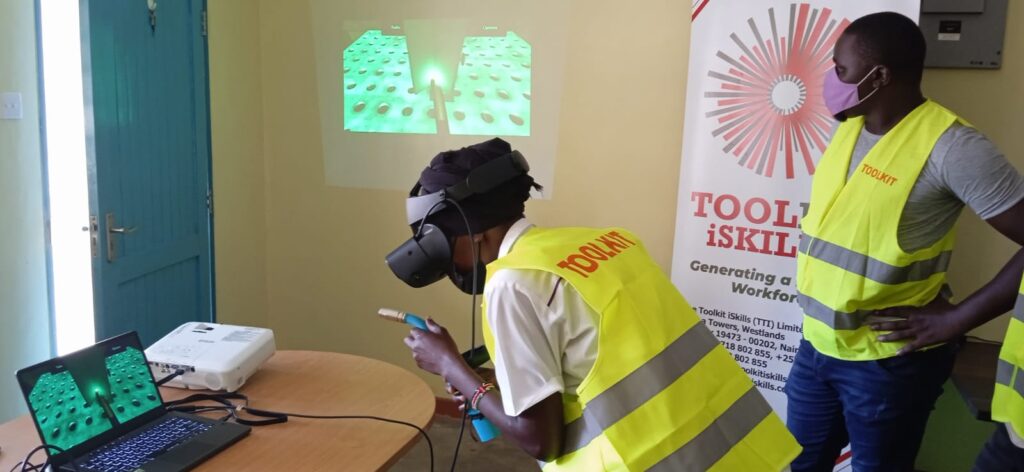 Strong Partnerships for a Brighter Future
Behind Toolkit Skills and Innovation Hub's success story are strong partnerships with organizations
that share a vision of empowerment through technology and skills development. Toolkit Skills and
Innovation Hub partnered with DigInVision company in our Virtual Reality Technologyprogram in
Africa.
These partnerships include:
 Deutsche Gesellschaft für Internationale Zusammenarbeit (GIZ) to scale the technical skills
for advanced welders in Kenya in 2023. This collaborative project aims to train and certify
300 young women and men as MIG welders, utilizing cutting-edge virtual reality technology
from all over Kenya. The goal is to place at least 100 of these certified youths into
employment within one year.
 Welding Akademia – Poland, offering international VR welding upskilling training for Kenyan
welding instructors.
 The Toolkit iSkills online Learning Management System (Jielimishe LMS), providing training
in basic digital skills.
 Government of Kenya (GoK), particularly the Ministry of Information Communication
Technology (ICT), spearheading digital infrastructure development.
 Kenya School of TVET (KSTVET), promoting standards for technical education.
 National Construction Authority – Kenya (NCA), regulating and building capacity in the
construction industry.
 United Nations High Commissioner for Refugees (UNHCR), collaborating to validate
refugees' personal information.
 Non-Governmental Organizations (NGOs) and Religious Partners like the Presbyterian
Church of East Africa (PCEA), The Hilde Back Education Fund (HBEF), and Compassion
International, working together to identify and support vulnerable youth.
As Toolkit Skills and Innovation Hub continues to train, upskill, and connect young Kenyans with
opportunities, it's clear that this journey is not just about welding—it's about welding dreams to
reality.
Stay tuned for more updates from ToolkitTechDigital as we follow the inspiring journey of these
young Kenyan welders and the transformative impact of Toolkit Skills and Innovation Hub's VR
welding program. Together, we are building a brighter future, one skill at a time. ToolkitFoundation,#VRWelding,#SkillsDevelopment,#EmpoweringYouth,#KenyanInnovation,#Tec
hnicalSkills, #YouthEmpowerment,#GlobalOpportunities,#Partnerships,#SkillUpKenya,#DigitalTran
sformation,#EducationForAll,#KenyanYouth,#MIGWelding,#GenderEquality,#DigitalSkills,#Employ
mentOpportunities,#TechnologyPartners,#YouthTraining,#InnovationInEducation,